Patient Satisfaction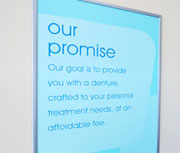 The affiliated practices providing DAILY DENTURES know that new dentures not only improve smiles, but more importantly, they improve lives. They will help renew confidence in your appearance. They will also help you eat better, and that can have a direct impact on your overall health.
Patient Satisfaction Commitment
Our Patient Satisfaction Commitment simply means we want you to be completely satisfied with the services you receive at the practice. This applies not only to the dentures we provide, but also to the kind of patient care you deserve to receive. Our goal is to do the best we can to meet your expectations as we help you with your experience in wearing dentures.
Please understand, in order to meet this goal, we need you to work with us. It takes time getting used to new dentures. They are not a natural part of your body, so adjusting at first may be uncomfortable and difficult. But be patient and allow us the opportunity and time to solve any problems you may have.
Adjustments
Typically we perform adjustments at no charge during the first 60 days after you receive your dentures. After the first 60 days, adjustments are available at a nominal fee. Please check with the practice to learn more about our policies.
Dentures that Break
If your dentures break in normal use during the first year, we will repair or replace, at the dentist's option, the denture at no charge.
Patient Concerns
Please discuss any concerns you have with the dentist and office staff. We appreciate your feedback. If you have further questions or concerns about your visit, please call the Patient Services Center at 1-855-YESDAILY and speak to a Patient Services Representative.
Looking For Information On Pricing?
Call 865-524-9020 today or click to learn about our affordable pricing.